Purell isn't the only name in the game (although it's a good one).
Read full article here.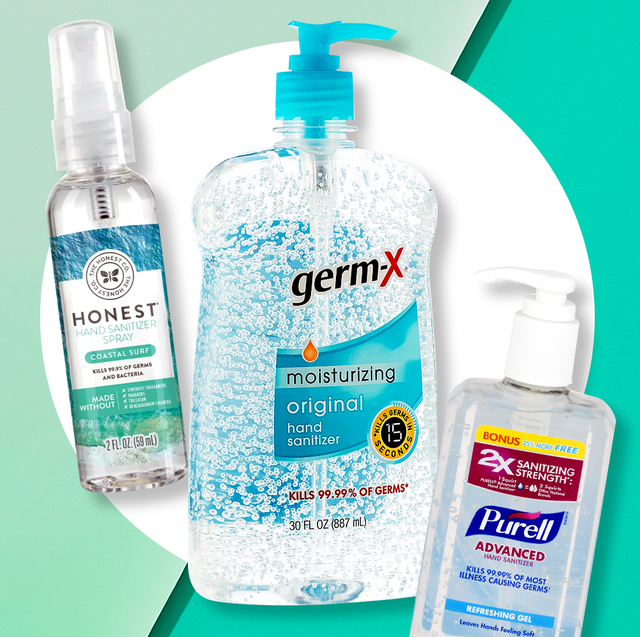 While hand washing with soap and water should be your go-to, hand sanitizer does work in a pinch. Let's face it, sometimes you don't have soap or a dependable sink sitch—and that's where hand sanitizer sparkles. In those circumstances, hand sanitizers are a pretty solid backup plan, according to doctors and the U.S. Food and Drug Administration (FDA).
"Hand sanitizer is a good way to disinfect when you don't have access to soap and water between hand washes," confirms Dr. Andrew Alexis, MD, chair of Mount Sinai's department of dermatology. Still, you've got to use the stuff correctly, check the expiration date, and make sure it contains the right ingredients. "Alcohol-based sanitizers with 60 percent alcohol or higher are best at killing many types of germs," says Alexis. If your bottle contains any less than that, it may reduce growth of germs but not kill them. The CDC confirms a high alcohol content (also at least 60 percent) is required to kill germs.
Since many go-to hand sanitizer brands are in high demand and hard to come by right now, other companies have stepped in. Case in point: The American Craft Spirits Association says three in four of its distillery members are now producing alcohol for use as sanitizers, Bloomberg reported.
Whether it's a traditional hand sanitizer brand or a new product, the first thing to look for is one of these three active ingredients on the label: ethyl alcohol, isopropyl alcohol, or benzalkonium chloride. "Other active ingredients may be ineffective," says Alexis. Those ingredients all indicate that the formula contains alcohol, and as long as it hits that 60 percent mark, you're covered.
Here are doctor-recommended picks and notable newcomers for the best hand sanitizers on shelves and online.
1.

Germ-X Moisturizing Original Hand Sanitizer
This family-size sanitizer has plenty of 63 percent ethyl alcohol formula to go around. It also boasts super-speedy germ-killing and moisturizing ingredients to combat alcohol's drying effects.
2.

Purell Advanced Hand Sanitizer
With 70 percent ethyl alcohol as the active ingredient, Purell has one of the highest alcohol concentrations of any of the recommended hand sanitizers on this list.
3.

Honest Company Hand Sanitizer Spray Coastal Surf
From Jessica Alba's clean beauty and home company comes these aromatic sanitizing sprays. The scents include Coastal Surf, Free & Clear, Grapefruit Grove, and Lavender Field. Don't let the sweet smell of the plant-based formula fool you; the 62 percent ethyl alcohol is tough on germs. It's also hypoallergenic and dermatologist-tested.
4.

Dr. Bronner's Lavender Hand Sanitizer
This easy-to-use spray has the added calming effect of a lavender scent. It has 62 percent ethyl alcohol for fighting germs. The ingredients are USDA-certified organic, vegan, and not tested on animals.
5.

EO Hand Sanitizer Gel, Unscented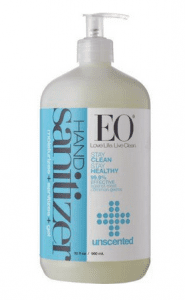 Containing 62 percent ethyl alcohol, plant-derived moisturizers, and essential oils, this hand sanitizer kills germs and doesn't harm the environment. That's why the description recommends you, "use with abandon."
6. Baby Bum Hand Sanitizer
Sun Bum may be better known for its sunscreens, but Alexis says the hand sanitizer is on point. The 62 percent ethyl alcohol formula is specifically formulated for kids, toddlers, and babies. The moisturizing ingredients, like monoi coconut oil and aloe, help keep skin soft.
7.

White Mountain Hand Sanitizer
Tamworth Distilling changed gears and pivoted to producing hand sanitizer instead of booze amid the novel coronavirus pandemic. The sanitizer features the distillery's scratch made neutral grain spirits and meets W.H.O. safety guidelines.
Mandarin, rosemary, and cedar give this sanitizer a sweet scent, but it's still tough on germs. This gel just makes the cut with alcohol as a key ingredient at 62 percent.
 

12.

SpaRitual Hand Sanitizer Spray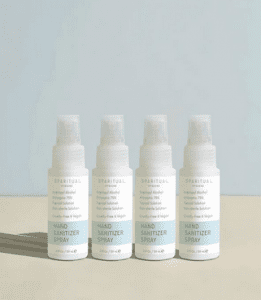 Formulated with just four essential ingredients (75 percent isopropyl alcohol, glycerin, hydrogen peroxide, and purified water), SpaRitual's new sanitizing spray is sustainable. Plus, the first 5,000 products will be donated to the homeless population in Los Angeles.
13.

Clark's Botanicals Hand Sanitizer
Clark's has devoted all of its production capacity to hand sanitizer. Like the brand's other skincare products, the new formula is vegan, gluten-free, and cruelty-free. It's tough on germs, though, with 71 percent ethyl alcohol.
14.

CHI Organic Gardens Moisturizing Hand Sanitizer
The new hand sanitizer includes 77 percent ethyl alcohol and organically grown aloe to help soothe dry hands. Choose from multiple sizes for at-home or on the go. Chi also donated $1 million of hand sanitizer to the cities of Houston and Tomball, Texas.