GOOD NEWS FOR PEOPLE WHO LIKE WACKY BOOZE
You have your favorite whiskeys or vodkas, but what about your go-to cherry bounce or beet spirit? Your beloved under-the-radar fennel spirit or out-of-the-box gins? These are eight American-born spirits from around the country that call on (and surprise) with unusual flavors.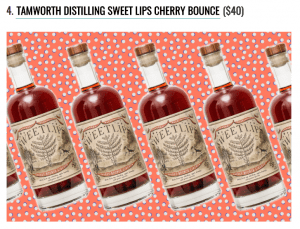 Just out this fall, Colonial-style cherry bounce is one of those "forgotten" American spirits that even Martha Washington had her own recipe for back in the 1700s. Tamworth Distilling founder Steven Grasse recently published the book Colonial Spirits: A Toast to Our Drunken History (Abrams, $24.95), which digs into this spirit and far more, just as his New Hampshire distillery released its own Sweet Lips cherry bounce. No, the flavors don't run too sweet. This is tart booze-forward cherry with whispers of Tahitian vanilla and woody, spiced notes from its rye whiskey base.
See the full list at: http://www.liquor.com/articles/unusual-liquor-flavors/#gs.35zXqvo