What will be the next hard seltzer? That is the multi-billion-dollar question for alcohol producers.
Read full article here.
It's hard to imagine now, but if you'd posed that question this time last year, many in the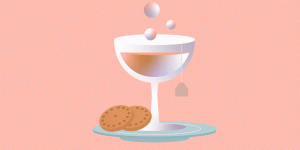 alcohol industry might have assumed you were asking for the next flash-in-the-pan "innovation." Now, with sales still surging, it's overwhelmingly clear hard seltzer is no fad. As the wave of its enormous success crescendos, multiple producers are betting on the next competitor: hard tea, a ready-to-drink spiked beverage flavored in still and sparkling form.
Hard tea is not a nascent subcategory by any means. According to Nielsen data, hard tea sales reached $436 million in 2019, and they're continuing to grow this year. In the 18 weeks leading up to July 4, hard tea sales surpassed $200 million — almost half of 2019's total.
This remarkable growth has almost entirely come from two market leaders, Boston Beer's Twisted Tea (launched in 2001) and Molson Coors' Arnold Palmer Spiked (launched in 2018), but neither of these brands align with the formula that's seen so many flock to hard seltzer. Each contains more than 200 calories and over 20 grams of sugar per 12-ounce serving; that's double the amount of calories of the average hard seltzer, and between 10 to 20 times more sugar.
Many alcohol brands see this as an opportunity — a "better-for-you" beverage in the already-established hard tea subcategory that mimics hard seltzer's low-calorie, low-sugar formula. With multiple such products already released this year, could this signal that the summer of hard tea is brewing?
Hard Tea: A Hard Seltzer Alternative?
Producers wishing to appeal to health-conscious drinkers currently have two options: compete in the now-saturated hard seltzer space or differentiate. With well-established brands like White Claw and Truly already dominating hard seltzer sales, many producers may feel that offering a hard seltzer alternative is the easier route to success.
In June, Rhode Island's Narragansett Beer launched its own hard tea in collaboration with local lemonade brand Del's. Narragansett's CEO, Mark Hellendrung, says the decision to launch a hard tea rather than a hard seltzer came from not wanting to become another "me too" offering in the seltzer space. Hellendrung describes the initial consumer response to Del's Rhode Island Hard Tea as exceeding the company's "wildest expectations." (Narragansett's Del's Shandy, a half-lemonade, half-beer is also made with the local brand.)
"Right now, because it's doing so well, we've had to really restrict where we've shipped it," Hellendrung says. (Del's Rhode Island Hard Tea is currently distributed in nine states, with more markets soon to follow.) "We're producing a lot more in August and September and we'll be able to release it full-throttle in September," Hellendrung adds.