Take Notes: Guinness Promotes Unity
Read full article here.
In the first Coronavirus-related ad (hitting airwaves March 13th) Guinness promotes unity, resilience and the human spirit. The ad acknowledged the unusual circumstances surrounding this year's St. Patrick's Day but never directly called out COVID-19 (or Coronavirus).
To say Guinness knocked it out of the park would be an understatement. Among Gen Pop viewers, the overall Ace Score for "St. Patrick's Day Message" was 34% above 90-day Beer ad norms thanks to the strength of its Likeability, Relatability, and the Information delivered. Beer drinkers ranked it as the #1 beer ad of all time — that's nearly 1900 ads going back to 2009 — and seven in ten reported increased purchase intent.
On top of that, "St. Patrick's Day Message" achieved Strong signal on the Empower metric from our new Cultural Perception scoring system — which measures the risks and rewards of communicating values and social objectives in these modern times. Gen Pop viewers of all genders and ages connected with this spot in such a manner: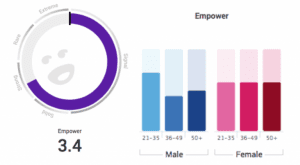 Below, a handful of the 400+ viewer verbatim comments we received about the ad illustrate the overwhelming praise and the positive cultural impact:
"Wow, I am sitting here in tears. This is the ad that sells. I really do not like the taste of Guinness but I just may have to buy some when I can. This ad speaks so strongly to my heart. Sure, this was the oddest St Patrick's Day ever but we have to come together to defeat this monster in our midst and there will be other times. Thank you ad creators and Guinness!" Female 36-49

"I love the message of this ad, bringing people together and people raising each other up through tough times. It fits what everyone is going through right now with the virus" Male 21-35

"That was a wonderful commercial. One of the best I have ever seen. Congratulations, Guinness; that was a beautiful message to witness." Female 50+

"I like Guiness anyway, but this was a well crafted ad cognizant of the difficulties brought on by COVID-19." Male 36-49

"I really liked that it addressed the current social situation with COVID-19 (without saying it outright) and had a warm, reassuring feeling to the narration. Phrases like "if you can do so safely," reminding us that there are so many people working through this pandemic to try to get things back on track, and visuals of small groups of people helped address what the ad was talking about (besides their product). The whole ad felt like a comforting pep-talk with just a little mention of their product peppered in." Female 21-35