The 9 Best Halloween Cocktails and Drinks
It's not as simple as putting a tiny ghost costume on your beer—but it's close.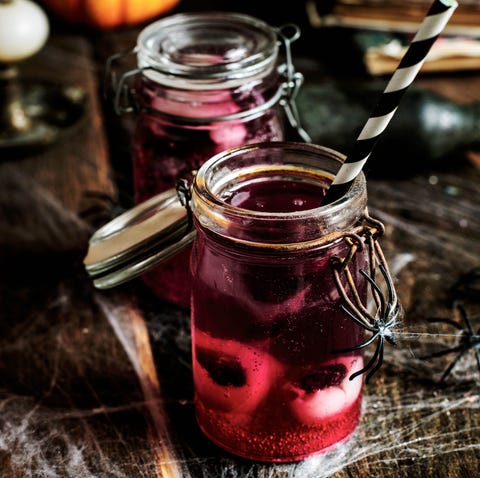 Halloween is a night of debauched house parties, hazy memories, and "funny" costumes that have a tendency to miss the mark. The drink of choice for most revelers? Whatever the hell you can find in someone else's fridge or grab quickly at a crowded bar—which more often than not means cheap beer.
It doesn't have to be that way. In fact, it shouldn't. Here are some appropriately spooky cocktails to help you enjoy the holiday, especially if you plan on hosting a Halloween party. Just be careful, because the hangover can be a monster.
(That's a Halloween joke, folks.)
[….]
The Vampire Hex
If Dracula had a drink—other than the blood sucked from his victims' necks, of course—it wouldn't be this dirty martini recipe. The garlic bitters make sure of that. But those two stuffed olives look an awful lot like bulgy eyeballs plucked straight from a bloodless corpse's skull. (Courtesy of Emily Rodia, Art in the Age)
Ingredients
2 1/2 oz. Powderhorn rye vodka
1/2 oz. dry vermouth (Dolin or Tribuno)
3/4 oz. olive brine
5-6 drops Addition Garlic Cocktail Spice bitters
Directions
Add above ingredients to mixing glass. Add ice and stir until chilled.
Strain into chilled coupe glass. Garnish with garlic stuffed olives
[…]
For full article- please visit https://www.esquire.com/food-drink/drinks/a25820/best-halloween-drinks-cocktails/