29 Spooky Halloween Cocktail Concoctions
PLUS: The most extra ways to serve them.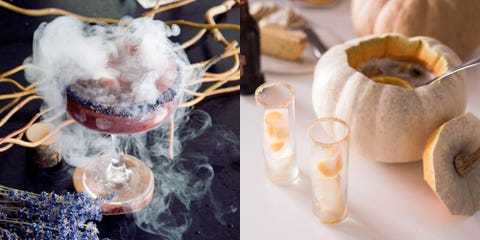 Thumbtack/ CRABBIE'S ALCOHOLIC GINGER BEER
Although costumes make every Halloween pregame feel extra, a custom cocktail will make your party particularly E-P-I-C—and you don't have to dress up as a mixologist to make the magic happen. So long as you don't get spooked by unfamiliar ingredients, you've got this—particularly since any mixing mistakes can be rebranded as "witches brew."
[…]
3. Old Widow
Combine 1.5 oz. Bloody Butcher Bourbon topped with about 2 dashes of Dram Palo Santo Bitters. Serve over a round ice cube frozen with a toy spider in the mold, and garnish with cotton candy "web" and additional spiders.
[…]
6. Vampire Hex
Combine 2.5 oz. Powderhorn rye vodka, .5 oz Dry Dolin vermouth, and .75 oz olive brine with a dash ofAdditional Cocktail Garlic Spice. Garnish with stuffed olive "eyeballs."
Created by Lee Noble, mixologist at Art in the Age.
[…]
For full article- please visit https://www.cosmopolitan.com/food-cocktails/a4896/spooky-halloween-cocktails/