Read full article here.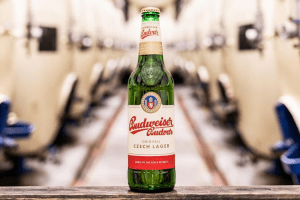 Budweiser Budvar has undergone a rebrand in a bid to appeal to fans of craft beer.
Rolling out now, the new look was been designed to reinforce the quality of the beer and its Czech ownership, said the brewer, which has added the strapline 'Greetings from the republic of beer'.
Budweiser Budvar wanted to "modernise the branding without going away from the tradition and give the beer the vehicle it deserves" said marketing manager Josh Smith. However, the packaging would still reflect the "historic heritage and unique story" of the brand, he added.
One of the most important changes was the highlighting of ingredients, Smith told The Grocer. "We want people to know we're using authentic Czech ingredients."
Budvar's Original Czech Lager bottles features two new-look logos, and has replaced the foil around the top of with a recyclable paper label.
The brand's other beers have also had a makeover, with the 0.5% abv Nealko now featuring a blue label instead of white, and Dark Lager being given its own look to "differentiate" it from the rest of the range.