Old City's Art in the Age now crafting boozy water ice
Sex up your Fourth of July with these frozen cocktails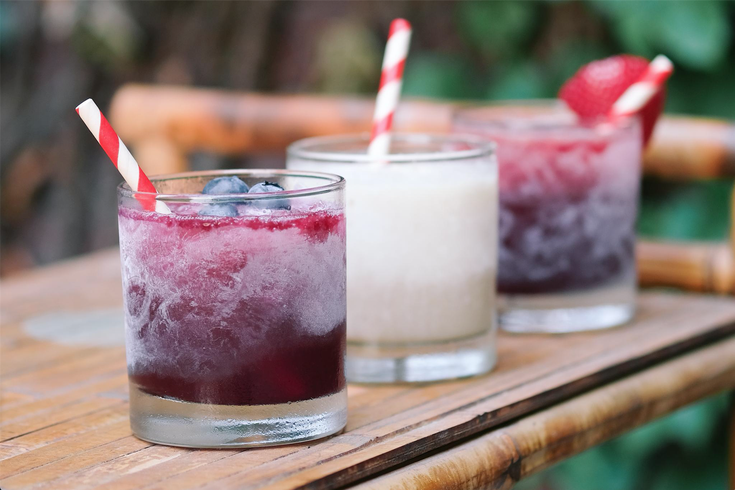 Quaker City Mercantile/for PhillyVoice
You know what's even better than water ice? Water ice that has alcohol in it.
Old City's Art in the Age is back at it with their newest creation, "Boozy Wooder Ice" cocktails, just in time for Independence Day. Relive those wonderful water ice memories from your childhood by forgetting about them entirely. Um, did someone just say, "yaaaaas?"
The drunken ice ranges from $10 to $14 and comes in three flag-colored flavors: Red (strawberry hibiscus), White (piña colada), and Blue (a blueberry and elderflower lemon drop). It is available for a limited time starting on June 30 through July 1. It will make two more appearances on Aug. 11 through 12 and Sept. 1 through 2.
But even if you can't make it down to Art in the Age, or maybe you're just a hostess with the most-ess, the recipes are available below so you can make these decadent water ice concoctions at home.
Red: Strawberry Hibiscus Boulevardier
2 oz. Kinsey Rye
1 oz. Campari
1 oz. strawberry/hibiscus simple syrup
1 oz. sweet vermouth
1 oz. water
Garnish glass with a half a slice of strawberry
White: Piña Colada
1 oz. Dreadnought White Rum
½ oz. Sailor Jerry Spiced Rum
2 oz. pineapple juice
2 oz. coconut milk
½ oz lime juice
½ oz half & half
Pinch of sea salt
Zest nutmeg over the top to garnish
Blue: Berry Patch Lemon Drop
2 oz. Butterfly pea flower infused Powderhorn Vodka
1 oz. Black Trumpet Blueberry Cordial
3 oz. blackberry Elderflower lemonade: (Top muddled blackberries with ½ oz lemon juice, 1 oz. Elderflower tonic, 1 ½ oz. water. Let infuse and strain)
Garnish with blueberries